FINAL RANKING
Deep Dungeon : 74,3 % – WINNER ! [Game with Better Gameplay!*]
I Need Speed : 73,6 % – [Game with the Best Music!**] – [More Polished Game!]
La Corona Encantada : 73 % – [Game with the Best Music!**] – [Game with Better Gameplay!*]
Danger Tower : 67,6 % – [Game with Better Gameplay!*] – [Most Original Game!]
Peek-A-Boo : 63,6 % – [Game with the Best Graphics!]
Sp8 Invaders : 58,6 %
Tomb of Genghis Khan : 57 %
Bakerman : 47,3 %
PWND : 43,6 %
Formula Dice : 42,3 %
Limaribu : 36,6 %
Hose Diogo Martinez: The Bussas Quest : 33 %
Those are the results set by the jury. The scoring into different categories has been done just by two jurors, as the other one refused to do an in-depth scoring because of him not wanting to report specific bad or good things of each project (and that's why all section scores do not match with the global result, because those sections have been judged but just 2 persons of the jury). Also, some jurors left some non-commented categories in certain games, as they do not think it will be relevant or they do not wanted to highlight any specific point. All three reports have been computed in order to show the final results.
Anyway, we have a winner again! Deep Dungeon, the dungeon crawler game by Arturo (ARTRAG) Ragozini, John (DemonSeed) Hassink, Richard (huey) Cornelisse. The winner, and the ones that have obtained other prizes offered by sponsors, will be contacted soon.
Going a bit further into the scoring, we can discover games that has obtained the best scoring on a specific category. Peek-A-Boo, the dvik&joyrex preschooler game, has been declared as the game with best graphics (just check the fantastic shots). La Corona Encantada and I Need Speed has obtained the mark of the games with best music, demonstrating that homebrew can reach a professional level regarding music composition. For the gameplay section, we have a fantastic three, that gave the jurors the best impression regarding playability and design of gameplay: Deep Dungeon, La Corona Encantada and Danger Tower. The never seen before run-and-avoid-enemies concept of Danger Tower catched the attention of the jury at the originality section. And finally, the most polished game goes to I Need Speed, the racing game with a huge amount of options to configure, rich menus, saves features, and so on…
Now sit back and read the in-depth report for all 12 entries presented to the contest!
01 – Deep Dungeon (Trilobyte) 74,3%
Graphics/Visuals 77,5%
– Good coloured graphics. Many items with more than 2 colors.
– Though I love the 8×8 pixel characters, it was better if the protagonist was easily distinguishable from the goblins.
Musics/SFX 80,0%
– Excellent soundtrack and sound effects.
– Ending tune is cool!
Gameplay (!!) 72,5%
– Too much confusion for a D&D like game… After a while it's not so funny to explore floors, fight enemies and find exit.
– The great fast gameplay without interrupt! I can feel the endorphine boost in my brain as I play this game! It would be perfect if there is any sign to indicate whether I am damaging the enemy correctly.
Originality 52,5%
– It's a conversion of a VIC20 game with added features. It's always the same maze like game.
– Isn't the title taken from the classic Deep Dungeon by Square?
Polish 87,5%
– The best intro sequence of all MSXdev08 games: intro screen, story and instructions, all ok!
Final Comments
– More efforts on gameplay and it'll become a great classic!
– I love the "you feel silly and returned" when I quitted the first floor! 

 And it had been better if there are fewer floors, because around floor 20 I got a feeling "this won't continue forever or will it?"
– Promises is you believe.
02 – I Need Speed (CEZ GS) 73,6 %
Graphics/Visuals 75,0%
– Professional graphics, visuals and look&feel! But MSX1 machines can do a little more: better menu screen, more colours and more sprites for car design.
– Great scroll. The line in the middle of the road serves as very good guide lines. But the overall tone looks more speccy than MSX.
Musics/SFX (!!) 82,5%
– Pure PSG power!!!
– Each stage has its original music, fantastic!
Gameplay 62,5%
– Game speed is too high compared to perspective and racing area, it is really frustrating to race without seeing track boundaries. Controls are too sensitive, it's really hard to keep control on curves and after car accidents. No "wrong-way" warnings but only direction-arrow will help you to find the right way. Conclusion: to play this game it's better to look all the time at the direction-arrow and the track map: what a pity…
– The control is very tricky. The stiffness of the grass area is controversial but I got used to it after 5 minutes. On the other hand, there is a nasty bug which sometimes fails to count the lap even if I get past the checker line. It must be solved.
Originality 72,5%
– Many games like this exist for other computer systems, but not for the MSX!
– Resembles Konami rally games.
Polish (!!) 92,5%
– Professional intro and rich menus. Other professional features, too, like the possibility to change camera, to mute music, and a simple championship editor.
– It's more complete than most of other commercial race games 

Final Comments
– Winners don't use drugs… sometimes.
– I think a feature to give up in the middle of the race is necessary.
– Very good game! Next version will become a masterpiece!
03 – La Corona Encantada (Karoshi Corporation) 73 %
Graphics/Visuals 75,0%
– Good graphics and visuals. Despite the fact that authors want to catch the spirit of old-monochrome-spectrum-like games, it would be better to put some other colors (at least) on the title screen. Enemies and main character are well designed.
– The hero looks cool.
Musics/SFX (!!) 82,5%
– The opening tune rocks.
– Music is a real soundtrack! Sound effects are simple but appropriated. All audios are very well conceived!
Gameplay (!!) 72,5%
– Fast and smooth movements! Features really hard to find in other MSX games of the same type (in Satan maybe?). Many level screens and difficulty is very well balanced. You cannot stop to play it so easely!
– Is it really possible to avoid enemies?
Originality 47,5%
– Many games like this exist for the MSX.
Polish 72,5%
– Karoshi logo and an epic main screen, mainly thanks to the great soundtrack! Story of the game scrolls on main screen but other kind of presentations are absent.
Final Comments
– Complete, that's a videogame.
– A really hi quality platform game, hope to see a more advanced version with better graphics.
– This game will be much more enjoyable if "invincible" time exists after initially hitting an enemy, so that the life is not drained superfast.
04 – Danger Tower (Danger Team) 67,6 %
Graphics/Visuals 77,5%
– Really pro graphics and visual effects!
– 1985 era style. I like the way the protagonist's hairstyle looks like Dracula kun on NES.
Musics/SFX 65,0%
– Good music and sound effects!
Gameplay (!!) 72,5%
– No need of instructions. Pure action, pure sense of panic in finding a save place in the room!
– It would be better if the time limit in each stage was shorter.
Originality (!!) 80,0%
– Simple concept for a high addictive game!
– Concept of "just staying alive" is a good viewpoint.
Polish 65,0%
– Simple intro and good idea to make us hear steps on stairs before starting a new stage.
– I love the title logo and the "Run!" demo 

Final Comments
– I like the skeleton displayed when the protagonist dies. By the way, this game will be much better if the protagonist has "hit point" instead of dying instantly.
– Not much things to say about this game but let's start to play! Best MSXdev08 arcade game, one of those games to burn immediately on cart.
– The cake is a lie.
05 – Peek-A-Boo (dvik & joyrex) 63,6 %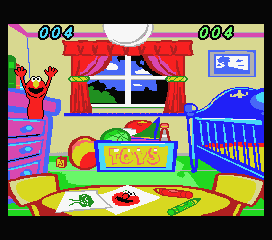 Graphics/Visuals (!!) 87,5%
– Excellent use of MSX1 graphix capabilities!
– Very neatly drawn background.
Musics/SFX 77,5%
– Excellent use of MSX1 music and sound capabilities!
– I love the Elmo voice!
Gameplay 32,5%
– Too simple for MSX veterans. It lacks of more advanced game modes to address hardcore gamers needs.
– In the pre-school mode it is very hard to guess which direction I should push to hit the Elmo.
Originality 77,5%
– First time I see a MSXdev game dedicated to pre-school MSX users!
Polish 45,0%
– Intro is really catchy! But more effort on ingame instructions would be appreciated.
Final Comments
– I like very much this game! Excellent graphics and sounds! Unfortunately it lacks of skill levels, more gameplay modes and "polish" features.
– This game can be advanced by adding several other modes like a super-fast or gradually accelerating mode.
– Hanna, 4 years old: "what's that, uncle?"
06 – Sp8 Invaders (Dioniso) 58,6 %
Graphics/Visuals 60,0%
– Good fonts, good animation and motion of sprites.
– SCREEN 3 style sprites are really catchy 

 How about enlarging the bullets as well?
Musics/SFX 42,5%
– No music but great sound effects.
Gameplay 70,0%
– Very fun to play along. But do all the enemies shoot and move in the same style? If so, I want some variations.
– Highly recommended to all the blasting-game fans!!!
Originality 30,0%
– Story is funny but game is deja vue.
– I think I saw a similar game on the pre-NES game consoles.
Polish 60,0%
– Good main screen.
Final Comments
– Rude, crude, real
– Very addictive good 70s Space Invaders like game.
– It would be much better if the enemies don't resurrect every time the protagonist dies.
07 – Tomb of Genghis Khan (Impulse9) 57 %
Graphics/Visuals 72,5%
– Good and coloured graphics. Very good visual effect for falling drops. Static graphics are well designed.
– Good old speccy style.
Musics/SFX 70,0%
– Music and sounds are good conceived. Unfortunately there's no music during playing.
Gameplay 40,0%
– I admit I'm not a lover of this kind of games, but it's the first time I really cannot reach the 4th stage… Collisions between character and enemies are too frustrating. I'd need an energy bar, not only some lives and a continue option…
– Rather quirky. It is hard to estimate where I would land after using the shift key jump.
Originality 42,5%
– Many games like this exist for the MSX, but the use of the Genghis Kahn name make me curious to take a look at it.
Polish 75,0%
– Good title screen, not a reach menu of items but at least there's a menu. Good idea to show a preview of stages!
Final Comments
– I think it is better to limit the jump button to the space key, and the protagonist to be horizontally controllable during the jump.
– Good game but some adjustments are needed to improve playability.
– We'll meet at South Pole.
08 – Bakerman (AG Software) 47,3 %
Graphics/Visuals 52,5%
– Middle quality graphics, simple animated sprites and MSX can display more coloured tiles on screen1. Apart this, main sprite, stage and items are well designed.
Musics/SFX 32,5%
– No music and few good sound effects.
– The noise of dying is cool. It will be better if footstep noise is more subtle
Gameplay 45,0%
– It's pleasant to move the main character across the screen, but it's a bit difficult to come out from stairs. The idea to take bags, then to load machines and finally to take bread is appreciated, but doing this for 10 times at the first stage (and 20 times at 2nd stage…) is really really frustrating… A simple/planned artificial intelligence of enemies is totally absent…
– When I try to exit from the ladder and walk horizontally, I have to push the up/down key before pushing the horizontal key. Otherwise I cannot leave the ladder. I don't think this is intentional and it must be fixed. Also, Is the number of required breads the only difference between the levels? I gave up after reaching level 3.
Originality 52,5%
– Tons of games like this. The idea to program an old-style platform game is appreciated.
– The idea to vary the destination to go depending on the situation is not a bad one.
Polish 35,0%
– Intro screen is good, pure Tank Batallion's style. Game looks like an early 80s game, very nostalgia feeling. Unfortunately it lacks of instructions and other demonstrations parts.
Final Comments
– With some improvements on graphics and a total reengeneering of sounds, levels and playability, this game would become a really great game! At this stage of development, it could be considered very close to a demo game.
– I think this game can be greatly improved by a few changes, for instance letting enemy chase the baker, or much harsher time limit.
– D-D-Don't copy that floppy.
09 – PWND (Vampier) 43,6 %
Graphics/Visuals 50,0%
– Simple screen 1 graphics.
– I like it when a game looks authentic homemade game.
Musics/SFX 27,5%
– No music and few good sound effects.
– I like the dying noise.
Gameplay 62,5%
– Good feedback and as funny as Snake is.
– Not bad, stages are wisely constructed and key response is good.
Originality 27,5%
– Grandson of the good old Snake. Old generations left place to the younger ones, but job is the same…
– This is the good old "Centipede" isn't it?
Polish 42,5%
– Old style intro screen but at least we can choose speed.
Final Comments
– Funny and good programmed game, but it's always Snake.
– It will be better if hitting the walls does not instantly kill but only cause the player to stop there.
– Snake eyes almost.
10 – Formula Dice (Luca Giglioli) 42,3 %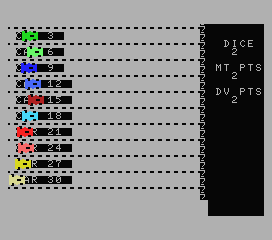 Graphics/Visuals 40,0%
– Simple manager game / simple visual effects.
– On Japanese MSX, the finish line graphic character is displayed as a kana. Different character is appreciated.
Musics/SFX 30,0%
– Simple manager game / simple audio effects. With music.
Gameplay 42,5%
– User manual is too long to read and too complicated compared to the real gameplay. At a first side it's not so simple to understand how to start to play… But after 1 minute you can't really stop to play and to say: "let's go with the next race!"
– I don't know how the calculations are done, but definitely too slow on MSX1. TurboR recommended.
Originality 60,0%
– Quite original idea, we are tired of football manager games! But it's always a managerial-game…
– This approach to the racing game is the one I never imagined.
Polish 37,5%
– Good idea to put instructions at the beginning. Intro is not bad for a short listing MSX-Basic game.
Final Comments
– Longevity is the winning key of this game! With a big effort on graphics, audios and game-modes it'll become a really valid alternative to classic managerial games.
– I understand that what I can do is to buy machine and driver power, and that their effectiveness change depending on the circuit. If buying these points is all that I can do, it is better to add more powerup features.
– Magazine tape cover.
11 – Limaribu (Arnold Metselaar) 36,6 %
Graphics/Visuals 35,0%
– Very simple graphics.
– On the Japanese MSX platform, the underbar used in the initial menu is displayed as kanas so I recommend the underbar to be replaced by hyphens.
Musics/SFX 15,0%
– No music, no sounds, only the keypressed sound "tac".
– There is absolutely no sound.
Gameplay 37,5%
– It will surely become challenging and funny after many dice launches, but it's a bit hard to start to play because of rules understanding.
– It took me two hours to understand what I really have to do in the game. It is necessary to describe in the manual the objective of the game. The control was very hard to understand as well. Still, F2 and F3 features are really useful, I probably gave up if these keys were not supported.
Originality 60,0%
– Original game since it has been conceived in 90s.
– Cross between mahjong and dice games. Is there any "model" of this game?
Polish 30,0%
– Ingame instructions are necessary but no help for how to play… Too poor intro
Final Comments
– Maybe it'll never become a success, but much more better with more graphics and sounds.
– I don't own the "1996 MSX game magazine" referred in the manual sorry… This game is so unique, therefore user friendlier interface and manual are strongly appreciated.
– Ten fingers aren't enough.
12 – Hose Diogo Martinez: The Bussas Quest (Muffie) 33 %
Graphics/Visuals 37,5%
– I like the early 80s style text only graphic.
– No graphics, some visual effects only
Musics/SFX 20,0%
– No music, some audio effects only.
Gameplay 37,5%
– It would be better if whether or not the player has pushed the right key is indicated visually or audibly.
– Interesting at the beginning, not so happy to continuously click keys to see the ending.
Originality 37,5%
– Story is original but not the game.
Polish 30,0%
– It is better if that interesting story written in the manual is shown in the game as well.
– Simple title screen and simple option.
Final Comments
– The goal of this game is to score 1000 points without making any mistake. It was better if the goal was more realistic.
– Little game, maybe funny for 5 minutes.
– A great swindle.