MSXdev contests history
The MSXdev contests have been originally created by Eduardo A. Robsy Petrus with the intention of giving a big impulse to the creation of games for the first generation of the MSX system. Now, years after the first contest, the same spirit lays within the contests, although rules have been changing with the time. Now you can check all MSXdev-related information in this section.
Click on the contest logo to read all information on this particular edition and download its games !
MSXdev contests
Two different categories:

MSX Classic
MSX Freestyle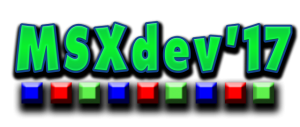 Winner: XSpelunker (Brain Games)
Main prize: 53,5€
10 games released
Two different categories:

MSX Classic
MSX Freestyle
Winner: BitLogic (OXiAB Game Studio)
Main prize: 300€
4 games released
ROM size was limited to 48Kb
Winner: Pretty Kingdom (Nerlaska Studio)
Main prize: 360€
10 games released
ROM size was limited to 48Kb
Winner: Shouganai (Paxanga Soft)
Main prize: 333€
6 games released
ROM size was limited to 16 Kb

Winner: Teodoro No Sabe Volar (Retroworks – Dimension Z)
Main prize: Eternal glory
3 games released
ROM and RAM sizes were limited, respectively to 48 Kb and 16 Kb
Winner: Zombie Incident (nenefranz, John Hassink and Sun)
Main prize: 410 €
9 games released
Last edition organized by the MSXdev Team
Winner: Heroes Arena (Imanok)
Main prize: 300 € + Nowind Interface
8 games released
Winner: Dr. Pill (Infinite)
Main prize: 165 € + SD v2.2 Interface
9 games released
The add-ons are taken in account only for the MSX1+ prize, created by sponsors
Winner: Deep Dungeon (Trilobyte)
Main prize: 250 € + 1 new MSX game on cartridge
12 games released
The add-ons are no more taken in account for the final result
Winner: Caos Begins (Hikaru Games)
Main prize: SUNRISE CF ATA-IDE + 200 €
13 games released (1 of the games was a extra game released out of the contest)
Now games could use up to 64KB RAM
Winner: Monster Hunter (Nerlaska Studio)
Main prize: a Panasonic FS-A1GT MSXturboR
19 games released
First contest that takes in consideration the game add-ons for its final result
Now games could be up to 128 KB long (that's MegaROM!)
First edition organized by the MSXdev Team
Winner: The Cure (XL2S Entertainment)
21 games released (1 of the games was a beta)
The prestige of the contest reached its highest level with the number of entries, the internationality of the contestants and the high quality of the games presented
Now games could be up to 48 KB long
Winner: Sink King (Guzuta Raster Leisure)
16 games released
This edition obtained the appreciation of the MSX community and became a reference to all MSX users
The contest rules were extremely restrictive. Games are all 8 KB long
No winner, contest cancelled
3 games released (1 of the games was a beta)
The first MSXdev contest ever
Was cancelled as a contest due to the lack of entries and some other troubles