Title: Global Ordnance
Genre: Tactical Simulation
Author(s): Fred Rique
Medium: ROM 128KB
Hardware requirements: MSX1, 64KB
As a prequel to Mine Command, the same author enters MSXdev23 with a new MSX1 game. But, this one's not for the faint of heart. No, sir! This so called "tactical simulation" is quite hardcore. In the same vein as your typical text adventure game, Global Ordnance depends on text input. You are to man a forgotten, old, and deactivated defense station and ward off incoming attacks as well as it goes.
The game's author, Fred Rique, rejoined the MSXdev23 competition with a game that demands patience, wit, strategy and clever tactics. If you find the game manual intimidating – 24 pages of instructions – and skip the RTFM process, you'll be banging your head at the keyboard in no-time. This game has a steep learning curve. Don't loose hope, as your people depend on your skills to work the battle station. Boot it up with "initialize" and take it from there.
The battle station you are controlling has warheads which you need to configure and deploy to destroy the enemy. The stations' board computer is ancient, so be patient with it. On screen you'll have the board sensor, view, contacts, ordnance, power, damage and console sections to guide you in your bravery. Use commands at the console to operate.
The game has in interesting set-up with several screens showing you statistics, live feed of information, a sensor, and 2d or 3d models to display. A game that probably doesn't appeal to any game player, but certainly has depth and a potential to keep you occupied for hours.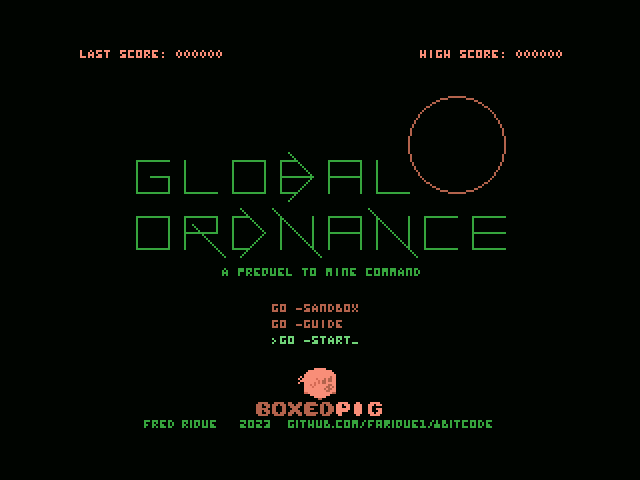 Did you enjoy this MSXdev game? Well, why not consider donating to the prize money or sponsor the winner's-loot-box by submitting a physical reward? 100% of the donations will go to the developers.